EDUCATION & DEVELOPMENT
In the first few years of a Moso Bamboo tree's life, the only growth seen is that of its underground root system. Once a solid foundation is formed, the tree then grows rapidly at several feet per day. This analogy is representative of our employee's career development here at Linamar. We are a fast-paced and challenging work environment, focused on our markets being truly global in nature. Our customers offer a multitude of products in electrification, light vehicle, commercial vehicle, access, agriculture, and are increasingly asking us to support their global operations. This provides Linamar employees with opportunities to work overseas and take international assignments to travel to overseas locations and take international work assignments that help ensure technical skills, global operating procedures and company best practices are consistently applied in all our world-class facilities.
Linamar believes the company's best future leaders come from within. With this concept in mind, we have created an internal goal: 70% of all new positions or current openings must be filled from within our existing employee base. This means increased opportunities for professional advancement and promotion for those employees who choose to build their careers at Linamar.
For decades the inherent challenge has been attracting more female youth into the manufacturing sector overall. This reality is the reason Linamar is prioritizing programs that attract and develop young female talent in STEM. We continue to work towards gender representation throughout the levels of leadership, and proportional to the overall employee base (population).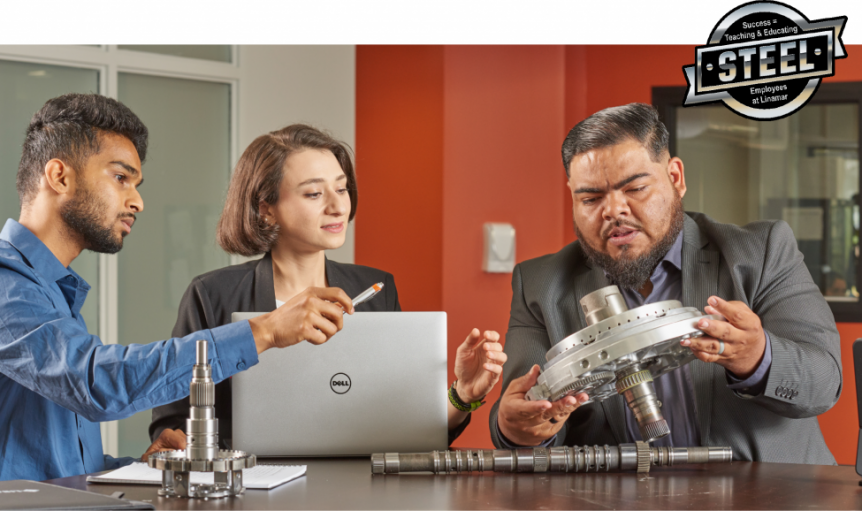 Programs and Scholarships
Linamar is proud to support young professionals on their education journey, and furthermore, has developed various scholarship opportunities.
Employee Career Development
Linamar has a strong foundation in the internal development of our employees. Through various programs and initiatives, we offer our employees opportunities that allow them to advance their passion of working for Linamar by giving them the resources and training that bring leadership qualities and positive attitudes to each facility. We strive to develop a culture in which people can maximize their potential. Our leadership culture is communicated, demonstrated, and rewarded at all levels of the organization. The result is a capable and motivated team of people whose potential is unleashed through a multi-faceted approach to growth and development. Through leadership training and development opportunities, we help our employees move in the direction they desire, helping them to drive the results necessary for their success as well as ours.